Ever had the thought cross your mind, "I wonder what they're thinking about me?" or "I wonder if anybody really cares about me?" or "What did they mean when they said that to me?" These are common questions people think to themselves. Especially teenagers. They allow these thoughts to enter their minds without realizing that this kind of thinking damages their spirit.
So, how do I fix my thinking?
Commit your works to the Lord.
Proverbs 16:3 says, "Commit thy works unto the Lord, and thy thoughts shall be established."
A person who is struggling with their thoughts is a person who will not be fully committed to the Lord. I must make a commitment to do, go, and be all I can for the Lord–be faithful to Him. The one who skips church, soul winning, or their personal time with God will always struggle with controlling their thoughts. When you commit to the Lord, your thoughts are established!
Refocus what you think on.
Philippians 4:8, "Finally, brethren, whatsoever things are true, whatsoever things are honest, whatsoever things are just, whatsoever things are pure, whatsoever things are lovely, whatsoever things are of good report; if there be any virtue, and if there be any praise, think on these things."
Is it true? Is it honest? Is it just? Is it pure? Is it lovely? Is it a good report? These are the guidelines of things to think on. BUT you say, "Well, that person said something that offended me and that's the truth so I can think about it." No. There is more to the verse. Does the truth have any virtue or praise? If not, then don't think on it. With the guidelines of thinking, you must add this, "Is there any virtue or praise?" This will dramatically change how you think!
A while back, some of our teens were really struggling with focusing their thought life. So, I wrote this poem:
I NEED TO CHANGE MY VIEW
–By Jonathan Wells

My friend, I have a problem. I don't know what to do.
It seems no matter what I try, I just can't make it through.

I worry often of my past, things I should not have done.
I often have to tell myself, it's covered by God's Son!

To do like Paul said he would do – forgetting things behind.
I must press toward the mark of God and learn to fix my mind.

I tend to worry, even now, of things that just might be.
Those things that may not come to pass, they often bother me.

If I just learn to be content with where God places me–
No matter what comes in my life, His plan I'll clearly see.

My friend, I found my problem. The problem is my view.
It took me time to realize my problem wasn't new.

When I look at my problems, in my own point of view,
I tend to read between the lines and make it something huge.

I add to things that are not there, their face I try to read;
I never stopped to realize I was planting the Devil's seed.

That seed of worry, doubt, and fear–it's all just an illusion;
For God is not the Author of those things that cause confusion.

But if we don't protect our view, our heart becomes affected.
We start to think all is in vain and we feel so neglected.

My friend, I fixed my problem. The problem was my view.
But now I see, that with God's help, I can truly make it through!
Give it to God.
Proverbs 3:5-6, "Trust in the Lord with all thine heart; and lean not unto thine own understanding. In all thy ways acknowledge him, and he shall direct thy paths."
We must ultimately trust in the Lord with all our heart. The moment we try to lean on our own understanding (thinking) is the moment confusion and worry begins, and "God is not the author of confusion, but of peace…" So, GIVE IT TO GOD!
ministrysharing.com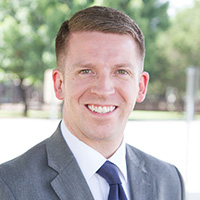 Youth Pastor of Parkside Baptist Church in Mesquite, Texas.
Jonathan has over 10 years experience of working with children's ministries as he traveled in child evangelism and served as the children's director at Parkside Baptist Church. He is now serving as the youth pastor and media director.
Jonathan is married to Heather and they have been married since 2010.