Items Needed
1 Inflated Beach Ball (Best played with 24-inch balls or larger.)
1 Chair Per Player
Objective
Each team wants to get the ball to stay on the opposite team's side while staying in their seats!
Instructions
Divide into two teams.  Everyone sits in a chair seated side by side with an aisle down the middle.
The game leader will start the game by tossing the ball to one of the teams.  They need to hit the ball to the other team without getting out of their seats OR hitting it out of bounds.  If a player hits it out of bounds, the other team scores a point and that round is over.  If a player stands up or gets on their knees, the other team scores a point and that round is over.
Play as many times as possible until the time is up or until a certain amount of points are reached.
Source: Funtastic Games, Volume 1 by Jonathan Wells
ministrysharing.com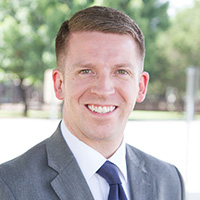 Youth Pastor of Parkside Baptist Church in Mesquite, Texas.
Jonathan has over 10 years experience of working with children's ministries as he traveled in child evangelism and served as the children's director at Parkside Baptist Church. He is now serving as the youth pastor and media director.
Jonathan is married to Heather and they have been married since 2010.