Have you ever faced a time when it seemed like even your closest friends were being hurtful in the things they were saying about you? Have you ever felt like you were all alone? Have you ever felt like you just couldn't go on?
My wife and I have been in this situation before. In the ministry and in life, there will be times when you feel like quitting. There will be times when you feel like you just can't keep going.
When I was facing such a time in my life, the Lord brought this passage of Scripture to me. In 1 Samuel 30, we see that David and his men were off fighting a battle. David and his men loved each other. I imagine they fought side-by-side and defended each other so many times that they wouldn't give it a second thought to throw themselves in front of an arrow or sword to save the life of their fellow-soldier and friend.
Something different happened during this particular battle though. While David and his men were away fighting, the enemy went to their home town and destroyed everything. They took their wives, their children, their servants, and all their belongings. They took it all and then burned their homes. When David and his men returned home, they sensed something was not right. No children came running out to greet them. There was no noise from the city. Their homes were smoldering and charred from the flames. They were crushed. Every one of them had now lost everything.
These men–David's friends, the ones who fought side-by-side with David–those same men turned on David: "And David was greatly distressed for the people spake of stoning him…" (I Sam. 30:6) In the same day, they went from being willing to lay down their lives for David to wanting to kill him. They were hurt at the loss they were experiencing and, because they were hurt, they wanted to hurt someone else.
It's very notable here to see that David was not greatly distressed by the loss of family and possessions. He was also not greatly distressed by what his men were doing. He was greatly distressed by what his men were SAYING. The things we say can have a powerful effect on people; therefore, we must be careful what we say. The men never stoned David, but the thing that distressed him was the fact that they "talked" about stoning him.
So, how did David get over this? What did David do? What can I do to be encouraged?
1. Don't focus on what people say.
The Bible says in the rest of verse 6, "…but David encouraged himself in the Lord his God." David didn't have family to turn to for encouragement. David didn't have a group of preachers he could call for encouragement. David didn't have a Facebook group he could post in for encouragement. David encouraged himself in the Lord. We must realize that when people say things, they don't always intend to hurt. Hurting people hurt people; so many times, people will speak out against you because somehow, somewhere, they got hurt.
Be determined not to focus on what people say.
2. Keep obeying the Lord.
In verse 8, David asked the Lord what he should do. God told him to go after the troop and fight them. Basically, God told David to keep doing what he had always been doing–fighting for the Lord.
When we face discouragement, it's not time to stop doing what God wants us to do. A discouraged person will many times avoid church. A discouraged person will stop going soul winning. A discouraged person will avoid the ones who are there to help them.
David did the opposite. He was discouraged but continued obeying the Lord.
The greatest defense you can use against criticism is to remain faithful.
DON'T QUIT!
3. You'll get back what you lost.
Verse 8 says, "…and without fail recover all." David, by not focusing on what people said and by continuing to obey God, RECOVERED ALL! When you remain faithful, the things that you lose when you face discouragement will be recovered. That hope that you lost, the joy that left you, the happiness inside, the peace and security you felt–all of that can be recovered if you just keep going.
1 Samuel 30:19 says, "And there was nothing lacking to them, neither small nor great, neither sons nor daughters, neither spoil, nor any thing that they had taken to them: David recovered all."
So today, I challenge you to keep going. I don't know what you're facing. I do know that we need the Lord more than anything else. Encourage yourself in the Lord!
ministrysharing.com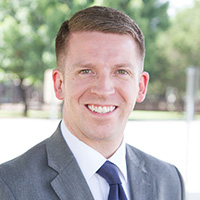 Youth Pastor of Parkside Baptist Church in Mesquite, Texas.
Jonathan has over 10 years experience of working with children's ministries as he traveled in child evangelism and served as the children's director at Parkside Baptist Church. He is now serving as the youth pastor and media director.
Jonathan is married to Heather and they have been married since 2010.