Deuteronomy 32:3, "Because I will publish the name of the Lord: ascribe ye greatness unto our God."
Internet Connection
The minimum requirement to stream something live is 5mbps upload speed.
Cut out any unnecessary connections to your network during service times.
Audio/Video Capture
With video, you are no longer bound by a video camera, you can now live stream from multiple devices.   
Mobile Devices
Video Cameras
Consumer Cameras
Pro Cameras (Personal choice would be cameras by BlackMagicDesign.)
PTZ Cameras  
Get good tripods. Your footage will only be as good as your tripod. We use the Manfrotto brand.
With audio, don't spend so much time thinking about picture quality and not enough time on sound quality. In most cases, a live stream is only as good as your ability to HEAR it.
START SMALL.
Production
We use the ATEM Television Studio HD from BlackMagicDesign for our video switching. ($995)
This equipment comes with free software to do overlays, fades, and other effects built-in.
We connect ours to an iMac and control the effects separately from the switching.
Decide if you'll be using manned cameras or un-manned cameras.
If using manned cameras, you'll want a good communication system from the controller to the camera operators.
We use the Eartec system. I recommend the Eartec LITE. 
Going Live
We use Boxcast to stream all our services.
There are free services that will stream for you but it would require you to know more technical details. Always remember, you get what you pay for.
Our live stream goes to Facebook, pbc.live and parksidebaptist.org
Copyrights
Just because streaming is free or cheap, doesn't mean you can stream whatever you want.
Research and pay for copyrighted materials.
For music, we use christiancopyrightsolutions.com and ccli.com.
CCS is what we use for our streaming. It covers everything, including archived services.
This requires quarterly reporting. I have a lady who types all this information in weekly.
Discuss Protocols
What do you want streamed?
Everything?
Business meetings?
Prayer times?
What do you want seen by everyone in the world? 
Empty pews?
Faces in the crowd?
Archiving Your Services
We leave the entire service on Facebook and pbc.live.
We post just the sermon on our youtube channel and preaching.parksidebaptist.org.
ministrysharing.com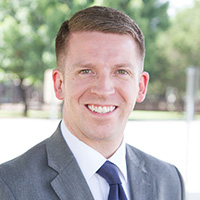 Youth Pastor of Parkside Baptist Church in Mesquite, Texas.
Jonathan has over 10 years experience of working with children's ministries as he traveled in child evangelism and served as the children's director at Parkside Baptist Church. He is now serving as the youth pastor and media director.
Jonathan is married to Heather and they have been married since 2010.