Here is the email I sent to a concerned parent about my claims that Fortnite and similar video games are not good for our teens to play:
A little backstory. Over the past few weeks, I've had several parents ask me about my thoughts on certain video games. The hottest topic was a game called "Fortnite." At that moment, I had never even heard of the game. Two of the parents said a very similar statement to me that prompted me to talk to a couple of my "key" teenagers. They said, "We figured the game was okay because so-and-so was playing it." Reminded me of the story of Spurgeon smoking cigars. The reason he stopped smoking was because it was damaging his testimony. Parents were even encouraging their kids not to drink or smoke but would receive the reply, "Well, Spurgeon does."
The few teens I have talked with personally have understood this and have decided to at least stop "announcing" that they play the game because they're being used by other teens as an excuse with their parents to play the game.
Last week, I led my neighbor to Christ. In our conversation, he asked if I could help him with his 21-year-old son. His son is addicted to "Fortnite" and even got fired from his job because he kept showing up late and was too tired to work.
As recently as of today, I met with another parent about "Fortnite" and he said as soon as he saw my post on FB, he did a little research of his own and pulled his kids from the game. He said he noticed the game was causing very heavy addictive properties and even affected his kids' behavioral responses towards them.
I am NOT against video games. I am against video games that:
Cause division in the home. Where the teen has delayed obedience towards parents or gives an attitude. "Children, obey your parents in all things…" (Col. 3:20)
Uses curse words. Our ears should never listen to such. Romans 3:14 compares people who curse with bitterness and unrighteousness.
Murders people. Even if in the form of cartoon killing. I believe the devil uses any avenue he can to desensitize Christians towards sin. We are not to be "ignorant of his devices" or he will "get an advantage of us." (2 Cor. 2:11)
Shows immodest/indecent graphics. "I will set no wicked thing before mine eyes…" (Ps. 101:3)
Involves/promotes anything illegal. Things you would get arrested for if you did them in real life.
Basically, I'm against any video games that allow you to role-play ungodliness, wickedness, and sin. If we don't separate ourselves, we will not have answered prayers. "Wherefore come out from among them, and be ye separate, saith the Lord, and touch not the unclean thing; and I will receive you."
One Sunday night, a teen boy was doing a dance move he learned on "Fortnite." Things that teach wickedness should not be something we participate in.
I met with another teen boy and asked him to give me a list of reasons he thinks God would not want him to play "Fortnite." Here is his list:
Bad music
Promotes dancing/dabbing
Killing
Unfiltered chat
I personally used to play a game called, "Clash of Clans" with a bunch of the teens on my phone. I didn't see anything wrong with the game. Then, my dad preached a sermon on the dangers of witchcraft and cults. The Lord struck me hard about that game because it has little wizards who can cast "spells" on the enemy to help you win your round. I called about 10 of our teen guys into a meeting and apologized to them for damaging my testimony and immediately stopped playing the game.
So what's wrong with violent video games?  I draw from the verse, Ezekiel 28:16, "By the multitude of thy merchandise they have filled the midst of thee with violence, and thou hast sinned…" So, merchandise that fills with violence is sin. I understand wartime and movies are different. Those things are depicting realism. Bible wartime was different too. The purpose of violent video games is violence "for fun." I believe that's the difference I'm trying to depict in the video game realm.
Verses to help with determining games to play:
Does it have any wicked thing in it?
"I will set no wicked thing before mine eyes: Ihate the work of them that turn aside; it shall not cleave to me." Psalms 101:3 
Will it damage my testimony?
"Let not your good be evil spoken of:" Romans 14:16
"A good name is rather to be chosen than great riches, and loving favour rather than silver and gold." Proverbs 22:1
Again, I'm not anti-gaming. I believe there is a proper balance.
As a youth pastor who loves and cares for the spiritual well-being of our teens, I can not stop naming sin. If I become limited to preaching against "general" sins, teenagers will not be helped. Ephesians 5:11 says, "And have no fellowship with the unfruitful works of darkness, but rather reprove them."
I'm doing the best I can to help the teens be better Christians and the parents to be better informed.
ministrysharing.com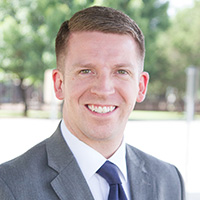 Youth Pastor of Parkside Baptist Church in Mesquite, Texas.
Jonathan has over 10 years experience of working with children's ministries as he traveled in child evangelism and served as the children's director at Parkside Baptist Church. He is now serving as the youth pastor and media director.
Jonathan is married to Heather and they have been married since 2010.