Mark 16:15, "…Go ye into all the world, and preach the gospel to every creature."
Excellent youth groups must make soul winning the BIG THING! Just as the fig tree produces fruit, then leaves. The priority of fruit (souls) must be first. God expects soul winning to be the first and top priority.
Announce it! Promote it! Reward it! Testify to it!
Have a soul winning time just for the teens.
Have more than one opportunity of soul winning each week.
Have plenty of tracts available.
Design your own tracts for the youth department.
Give your teens the vision of soul winning everywhere – not just at scheduled soul winning times.
Let the teens see you doing it. They need to catch you passing out tracts everywhere.
Get the converts to church.
Look sharp. Always dress your best when soul winning and encourage the teens to do the same.

Throw away bent tracts.
Keep your shoes shined.
Have clean breath.

Have a prospect list.
Have a soul winning plan ready.
Use others to help you organize the soul winning time.

Teams
Maps
Tracts
Bus Program
Preacher Boy

You assign the teams, not the teens.
Arrange a driver.
Have plenty of workers.
I have 3 adults per soul winning team of 8 teenagers.

The Bible says, "…a threefold cord is not quickly broken." (Ecc. 4:12)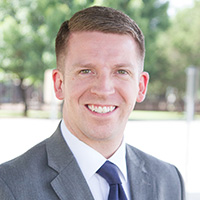 Youth Pastor of Parkside Baptist Church in Mesquite, Texas.
Jonathan has over 10 years experience of working with children's ministries as he traveled in child evangelism and served as the children's director at Parkside Baptist Church. He is now serving as the youth pastor and media director.
Jonathan is married to Heather and they have been married since 2010.