David's Music Department Beginnings
I Samuel 16: 23, "And it came to pass, when the evil spirit from God was upon Saul, that David took an harp, and played with his hand: so Saul was refreshed, and was well, and the evil spirit departed from him."
David's Music Department Growth
II Samuel 6:5, "And David and all the house of Israel played before the Lord on all manner of instruments made of fir wood, even on harps, and on psalteries, and on timbrels, and on cornets, and on cymbals."
David's Music Department Continued Growth
I Chronicles 23:1-5, "So when David was old and full of days, he made Solomon his son king over Israel. And he gathered together all the princes of Israel, with the priests and the Levites. Now the Levites were numbered from the age of thirty years and upward: and their number by their polls, man by man, was thirty and eight thousand. Of which, twenty and four thousand were to set forward the work of the house of the Lord; and six thousand were officers and judges: Moreover four thousand were porters; and four thousand praised the Lord with the instruments which I made, said David, to praise therewith."
II Chronicles 5:11-14, "And it came to pass, when the priests were come out of the holy place: (for all the priests that were present were sanctified, and did not then wait by course: Also the Levites which were the singers, all of them of Asaph, of Heman, of Jeduthun, with their sons and their brethren, being arrayed in white linen, having cymbals and psalteries and harps, stood at the east end of the altar, and with them an hundred and twenty priests sounding with trumpets:) It came even to pass, as the trumpeters and singers were as one, to make one sound to be heard in praising and thanking the Lord; and when they lifted up their voice with the trumpets and cymbals and instruments of musick, and praised the Lord, saying, For he is good; for his mercy endureth for ever: that then the house was filled with a cloud, even the house of the Lord; So that the priests could not stand to minister by reason of the cloud: for the glory of the Lord had filled the house of God."
In a church we should always be looking for ways to expand our music program. After all, one of the biggest ways we give praise to God is through singing and through music.
We are continually looking for ways to expand our music program at Parkside Baptist Church. Often, I will watch and observe other independent, fundamental Baptist churches and their music programs for ideas.
Here are some non-exhaustive thoughts that may be a help to you:
Have a dynamic congregational song service.

Be confident in your song leading.
Confidence breeds confidence.
Encourage everyone to use a song book.
Lead the congregation as you would lead a choir.
Do special things with different songs.

Change tempo on a last chorus
Slow down the last line
Occasionally, sing a song or chorus acapella
Be proud of whatever people God has given you in your music department.

Regardless of the stage they may be at, praise them for their willingness to serve.
Publicly praise them.

In a service.
Before or after a service in their presence.
Social media.

Privately praise them.
Even if perhaps it was not the best, on key, special you have ever heard, you can find something to praise them for.
Your music department may not be what you want it to be just yet, but without your encouragement they will never grow.
Use what God has given you in your music department.

While bringing in a special music group or singing family may have its place (we do it from time to time here), do not shy away from using YOUR singers and musicians during special events.
This accomplishes several things:

It shows them that you believe in them.
It forces them to practice diligently.
Make your choir the "best and biggest" group that you have.

Your choir is the biggest tool you have for expanding your special music program.
It's what most people see as your "music department."
Good choirs encourage others to be involved in your music department.
Encourage as many people as possible that are in your music program to be a part of the choir.
Draw from your choir for singing groups.
Encourage children, teens, and adults to sign up for music lessons.

We currently have 7 "main" pianists in our church and an additional 6 others that we use for various groups.
About half of these grew up in our church taking lessons.
As a leader, look and listen for those who can sing or play instruments.

Have "scouts" in the congregation listening for useable voices.
If you have public school teens in band at school, encourage them to use their talents for the Lord at church.
Have a time periodically for those who want to be involved in the music program to "try out."

While we call these "try outs" at our church, we hardly ever turn someone away UNLESS they absolutely do not have the gift of singing. If they need vocal attention and you believe it wouldn't hurt the overall sound, invite them to join the choir. This would allow them a time of polishing before being placed into a singing group.
If they can sing well and meet the Christian guidelines of your church, allow them entrance into a singing group with the pastor's approval.
ministrysharing.com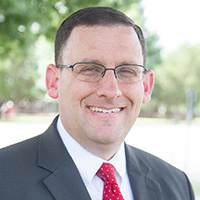 Dr. Kacy Palmore, husband and father of five children, has been serving his Lord as an assistant pastor since 2003. While serving as an assistant pastor, he has fulfilled several responsibilities such as: Youth Worker, Sunday School Teacher, Sunday School Superintendent, Bus Captain, Bus Director, Retreat Director, Choir Director, Music Director, Business Administrator, as well as various other roles assigned by his pastors. Dr. Palmore is known for his servant's heart and willingness to hold up the hands of his man of God. Visit PalmorePublications.com!