Christmas! Sugar, cookie dough, cookie cutters, sprinkles and icings…. a Hallmark moment in the making?!? However, mine never seemed to turn out like that! Mine was more like flour everywhere…cookies not recognizable from one cutter to the other and way too many sprinkles…the kids and grandkids fault! LOL! Nothing like they show in the magazines! That's okay because if they were that pretty, I wouldn't want to eat them anyway!
Are we like that in our Christianity? Do we try to use "cookie cutters" to shape everyone that shows up at our church? We are not a factory that is trying to produce mass quantities of COOKIES! Because you have been created by God as a unique person, His plan to grow you will not look the same as His plan to grow anyone else. Water needed to grow an orchid would drown a cactus. What would feed a mouse would starve an elephant. The key is not treating everyone alike, it's just loving them and letting God shape their life!
Imagine a parent who thinks, I will treat all of my children exactly the same way. They will all be motivated by the same rewards, respond to punishment the same way, and enjoy the same activities. NO!
If we really want to help someone grow in Christ, we have to help them in a way that fits them.
Our great model for this is God himself, for He always knows just what each person needs. God never grows two people the exact same way. God is a hand-crafter, not a mass-producer.
The problem many people face when it comes to spiritual growth is that they listen to someone they think of as the expert—maybe a preacher, Bible Study leader, or Sunday School teacher—talk about what they do and they think that's what they're supposed to do. When it doesn't work for them (because they are a different person!) they feel guilty and inadequate, and often give up.
Don't give up! Be a "Cookie" with lots of sprinkles and icing! Its not what it looks like…it's all about taste!
Psalm 34:8 "O taste and see that the LORD is good: blessed is the man that trusteth in him."
ministrysharing.com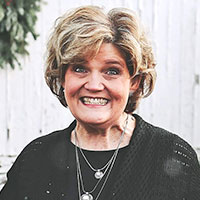 Mrs. Vicky Mutchler is the wife of Dr. Mike Mutchler.  They have been married for 43 years. They have 4 children and 12 grandchildren.
Mrs. Vicky enjoys serving at her church as well as, speaking to ladies to encourage them in their daily walk with God.
She has a Facebook page called: Words of Encouragement.